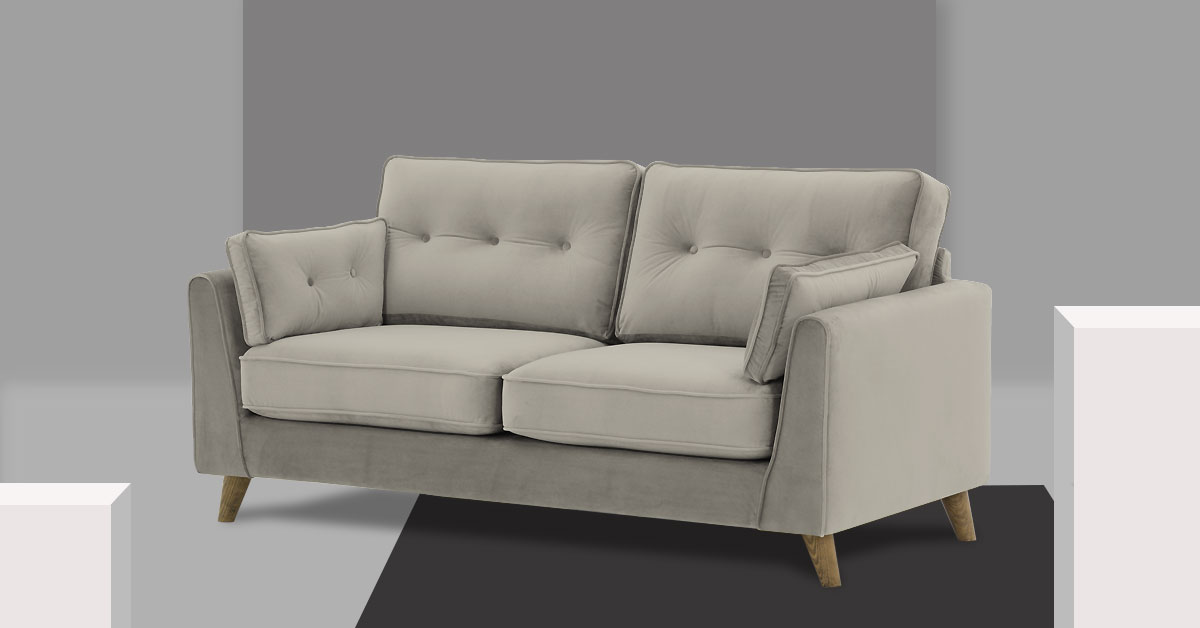 Grey walls and grey furniture are nowadays as in fashion as they used to be a few years ago, when grey tones were everywhere. Literally everywhere. We remember when our customers were calling us asking to help them choose a sofa that will match their grey walls, grey curtains, or even grey floor. Today, it all changed a bit and colourful sofas and armchairs tend to prevail, but a large number of people will still go for a grey sofa or a grey corner sofa bed.
Why is grey colour so omnipresent? It is certainly because it is a very universal colour, it is easy to choose accessories that will match it and it is easy to keep clean. A grey sofa is a favourite of recent years. You can create a fascinating arrangement, when you match it for example with colourful cushions in tones or green or yellow. You can play with different colours all year round. In spring you could play with green accessories, in summer and autumn with yellow and orange ones, and in winter with shades of red.
Grey sofa or grey corner sofa is a fantastic, neutral base for creating a perfect interior. You might not know but here's an interesting fact: grey tones – contradictory to what you could think – have a very positive impact on our mood. They relax and calm us down. It used to be white colour that was supposed to have this effect, but today we hear that white, raw walls quickly become boring and change the atmosphere to more sterile, even hospital one.
Grey corner sofa bed as a functional piece of furniture in every living room
We all dream of a beautiful, cosy interior that is also functional. With this in mind, a corner sofa bed will be a perfect solution for homes where an extra sleeping space in a living or day room is needed. It would be even better if the corner sofa bed had storage for bedding. And what about upholstery fabric? What should it be like? It should definitely be easy to keep clean. It must be pleasant to the touch and have a high class of abrasiveness. It is important that the fabric meets all your requirements.
Corner sofa beds in dark grey or light grey colours can fit perfectly into any interior. This type of furniture will be a fantastic option for studio flats. It will beautifully fill the living room and will provide a place to rest and watch TV, while in the evening it will become a comfortable sleeping space.
Small sofa in a living room also guarantees comfort
Large living rooms have their own rules, the same as the small ones. If you have a small flat, but you still have a separate bedroom, you don't have to go for sofa bed. You can choose a 2-seater or a 3-seater sofa, which will become a beautiful showpiece of your living room. If you go for this option, it is worth to choose a tone of grey that you can easily add accessories to, such as: comfortable upholstered chairs in red or a yellow armchair in Scandinavian style. A grey 2-seater sofa will beautifully fill your living room and everything around it will give the colour a new, unique aspect.
We have a few options of sofas that in our store are available in light or dark grey fabric
Magnus 2.5-seater sofa - it is a Scandinavian piece of furniture in a very simple shape. The fabric that it is made with resembles velour. It is available in light grey and looks magnificent in this shade. Gentle quilting on the backrest, as well as smartly looking armrest cushions (which also guarantee extra comfort of use) give the sofa a stylish look. Magnus sofa is also available as a 3-seater, or even as an armchair and comfortable, upholstered pouf.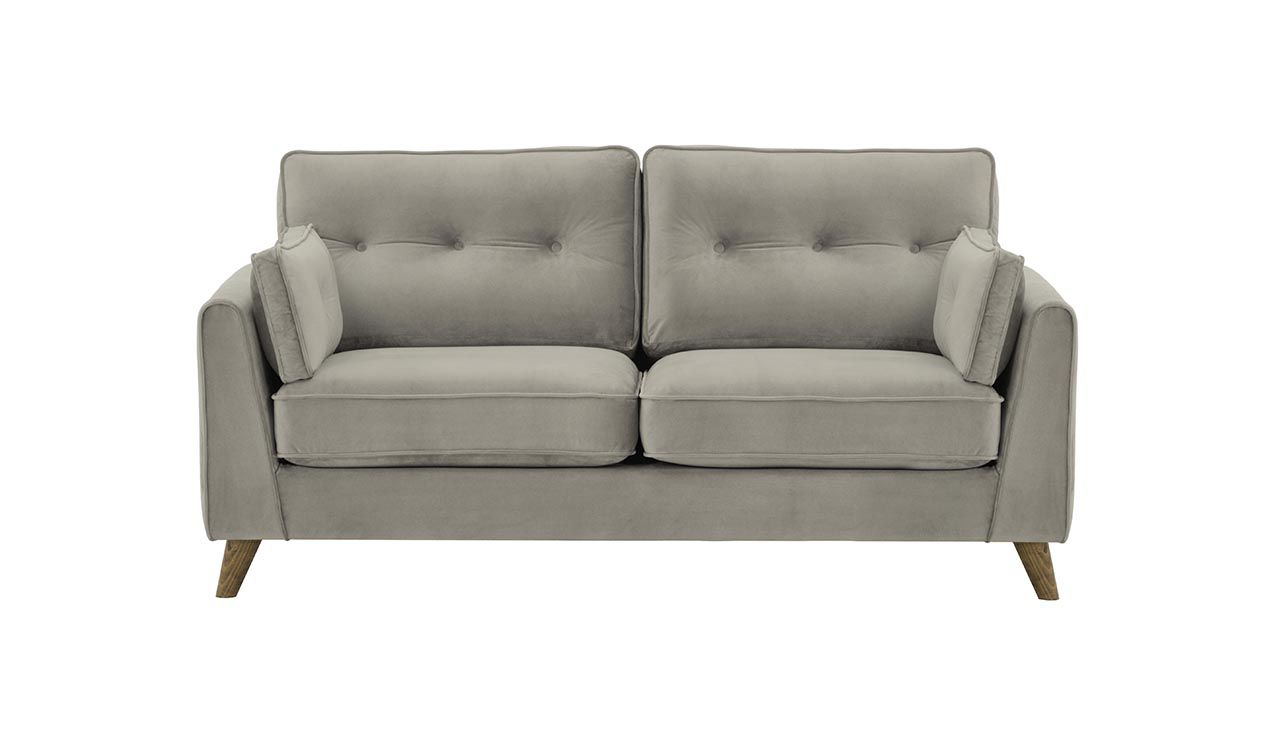 Slender 2-seater sofa – it is a very universal piece of furniture. The sofa has a beautiful shape: it is classic and simple, but at the same time elegant and it allows you to use this sofa model in various arrangements. The stitching on the backrest is simple and delicate, but at the same time it very strongly emphasises sofa's character. Velutto fabric that is available with this model has a generous colour scheme, and within greys we have an option of light grey or graphite colours. Both of those shades look exceptional.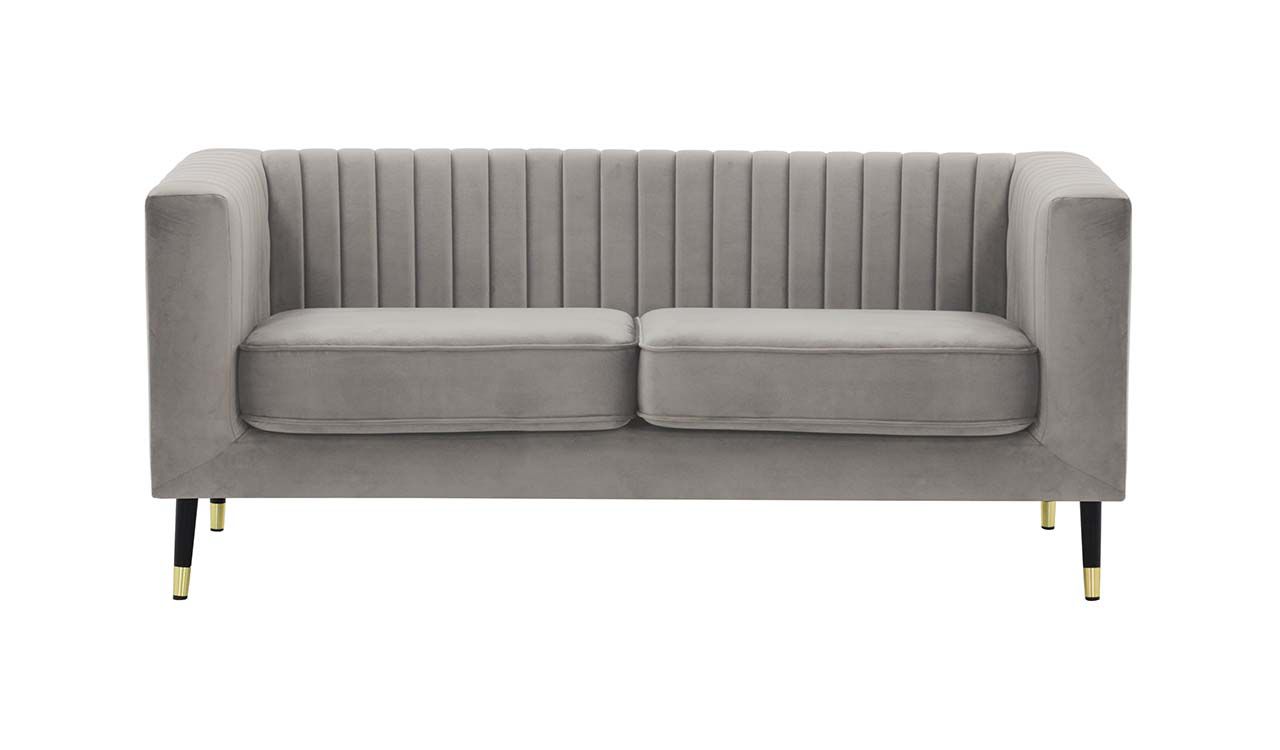 Rubens 3-seater sofa – it is a model designed in classic style. Comfortable, soft seat and backrest. Shapely, wooden legs. Those are just a few features of this piece of furniture. Rubens sofa in grey colour will work perfectly in a large living room where family members go for mainly pastel accessories. It can also work great with wooden elements. Moreover, you could add an upholstered armchair to this model.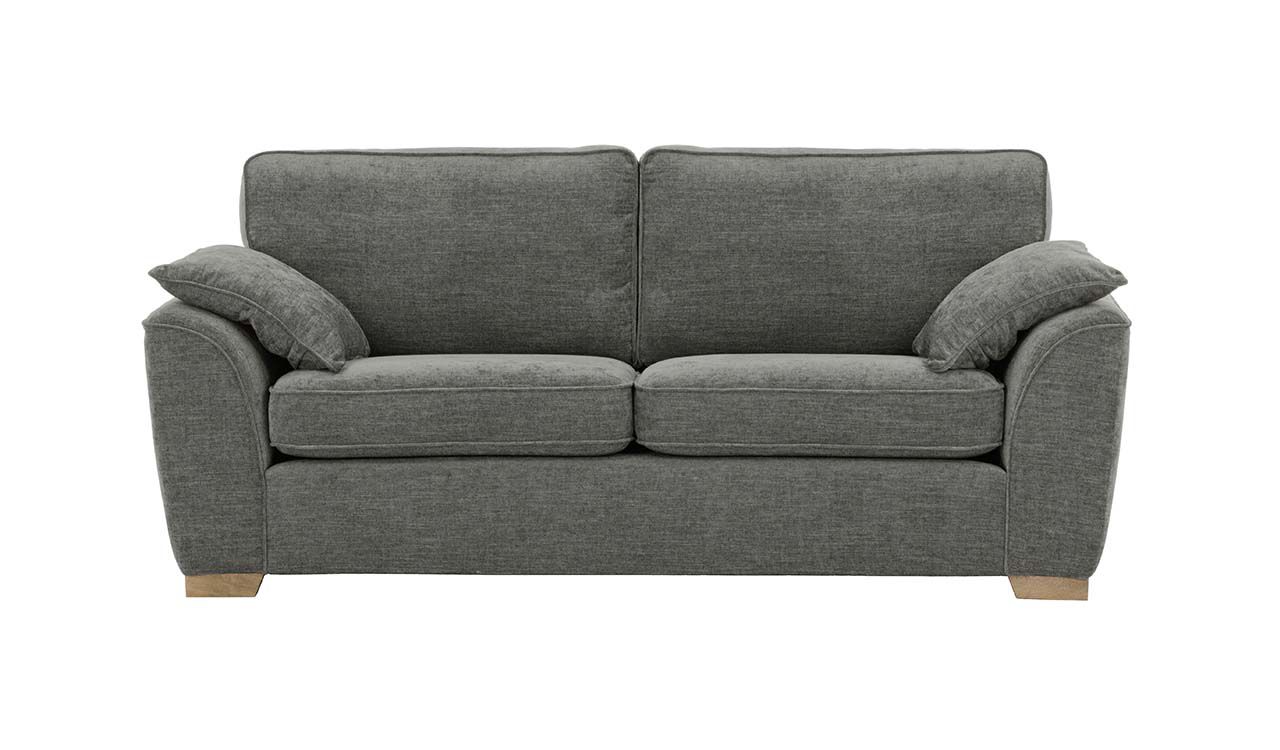 Gosena right hand facing corner sofa – this piece of furniture in grey colour will look fantastic in any living room. Pleasant to the touch fabric, as well as simple shape of this corner sofa give you plenty of options of using this model in various arrangements. This corner sofa doesn't have storage for bedding, but even without this feature, it is still very functional and ideal for small and large living rooms.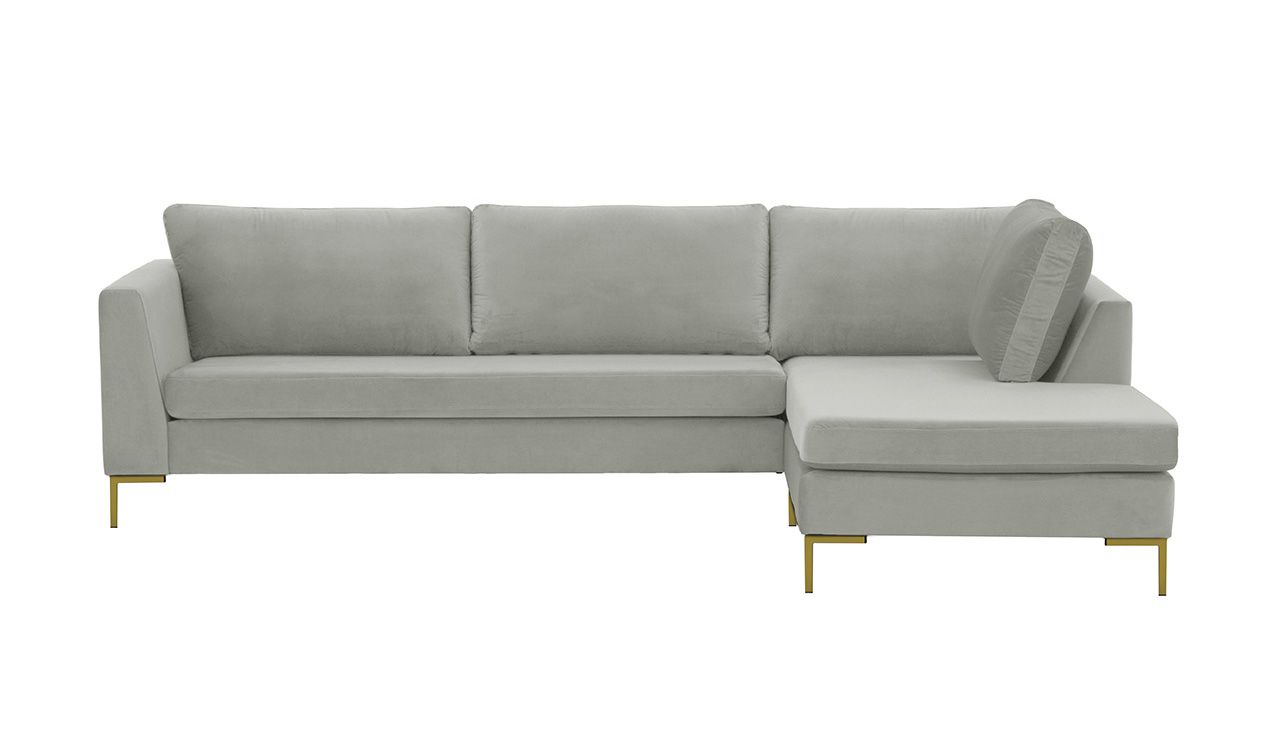 Zamba 2-seater sofa – a typical piece of furniture in retro style. It is available in elegant, velour fabric. Light grey is of course available as an option here and we recommend it, because in this colour the sofa looks exceptional. Fine quilting on the fixed backrest and soft, loose seat let you relax after a hard day at work. Aesthetic qualities of Zamba sofa are numerous. It could take a central place in your living room and would proudly showcase this comfort zone.