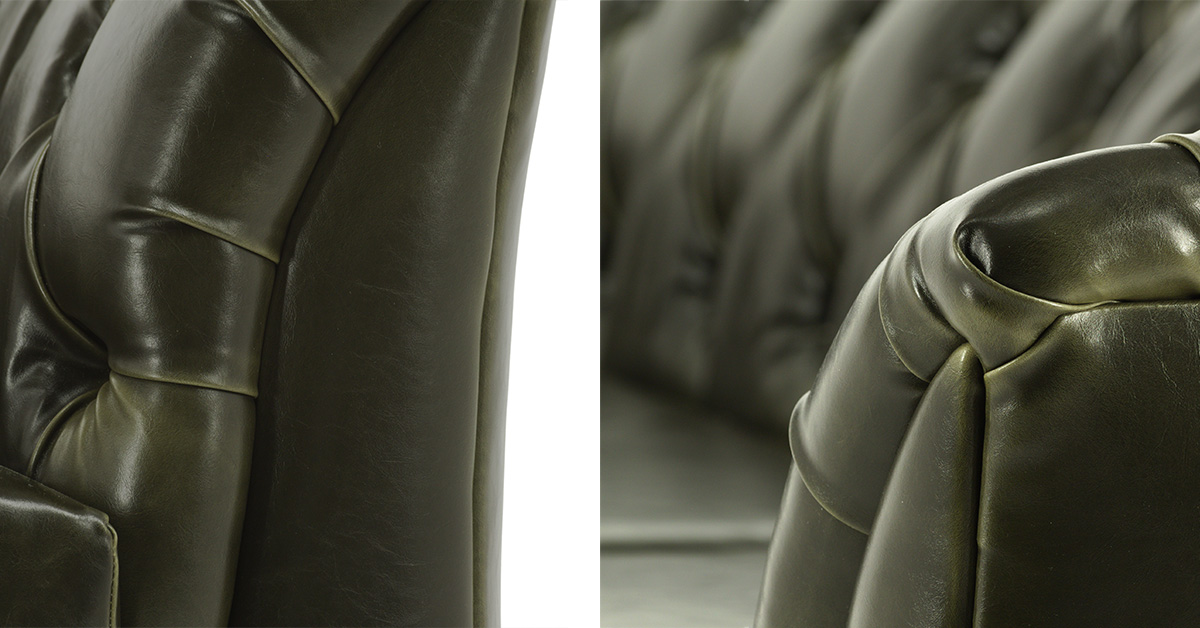 The industrial style is a combination of harshness and cosiness with bright colours that light the interior up. High ceilings, large windows and beautiful accessories are the main distinguishing features of the industrial style. The greys and whites that dominate this type of interior are often contrasted with accessories in intense colours. What else distinguishes the industrial style?
Features of industrial style
Industrial style, like any other, has some specific features. They are:
no partition walls,

large open space,

very good lighting with natural light,

raw materials - concrete, brick,

quite rigid fabrics - linen or leather,

simplicity,

minimalism,

cold colours.
When looking at the features of industrial interiors, it is worth briefly describing how this style was born. The idea for the development of post-production halls and former factories came about in the USA in the 1950s. Industrial style came to Poland only in the 1990s.
Other features of industrial style
If you want to create an industrial-style apartment, it is worth looking for a suitable building. The interior should be illuminated as much as possible by daylight, i.e. by using windows of appropriate size. Industrial windows are often narrow and long with or without ornaments. Their main task is to allow in as much light as possible, so they don't have neither blinds nor curtains. To ensure the right amount of light after dark, industrial style relies on factory halogen lamps.
When looking for accessories for an industrial interior, it is worth choosing those in vivid and intense colours. They will make the interior in an austere style - with bare bricks and concrete – cosier and full of warm atmosphere. Furniture is another question that needs some attention.
Industrial-style furniture often features wardrobes and chests of drawers with a soul - found in antique stores and refurbished or recycled ones. In an industrial apartment, for example, mattress frames made of wooden pallets would work well.
What furniture to choose for interiors in industrial style?
When choosing furniture for an industrial-style apartment, it is good to choose pieces with simple shapes - sharp and straight lines or inspired by the factory style. The main materials for industrial-style apartment furniture are steel, metal, wood, concrete, sometimes bricks, as well as metal and glass.
An industrial apartment can also be filled with short wardrobes and mirrored surfaces, which will give the so-called depth effect. If you want the interiors to be unique, you can furnish them with wardrobes, chests of drawers and armchairs in Victorian style or those from the times of the Sun King. In an industrial-style room, standing lamps that have some factory-lighting features - halogen lamps or lamps with wooden accents – would also work perfectly.
Arranging a living room
The industrial style is primarily an open space. If you have a more spacious studio flat, you could go for a larger sofa. Remember that some of the main features of an industrial flat are harshness and simplicity. It's good to contrast it with accents that will make the interior feel cosy. This can be achieved by bringing in a sofa or a corner sofa, such as Magnus 2,5-seater or Cooper 2-seater sofas with wooden accents.
When designing a room in an industrial style, it is worth choosing the right colours. Although this style is dominated by cool and toned-down shades, when painting the apartment, it is worth focusing on industrial style key colours, which are most often white, black and anthracite.
Industrial style in the living room also includes bright colours - white, grey and beige combined with bricks or concrete. Steel accents, e.g. shelves or visible frames, look interesting in a living room with high ceilings.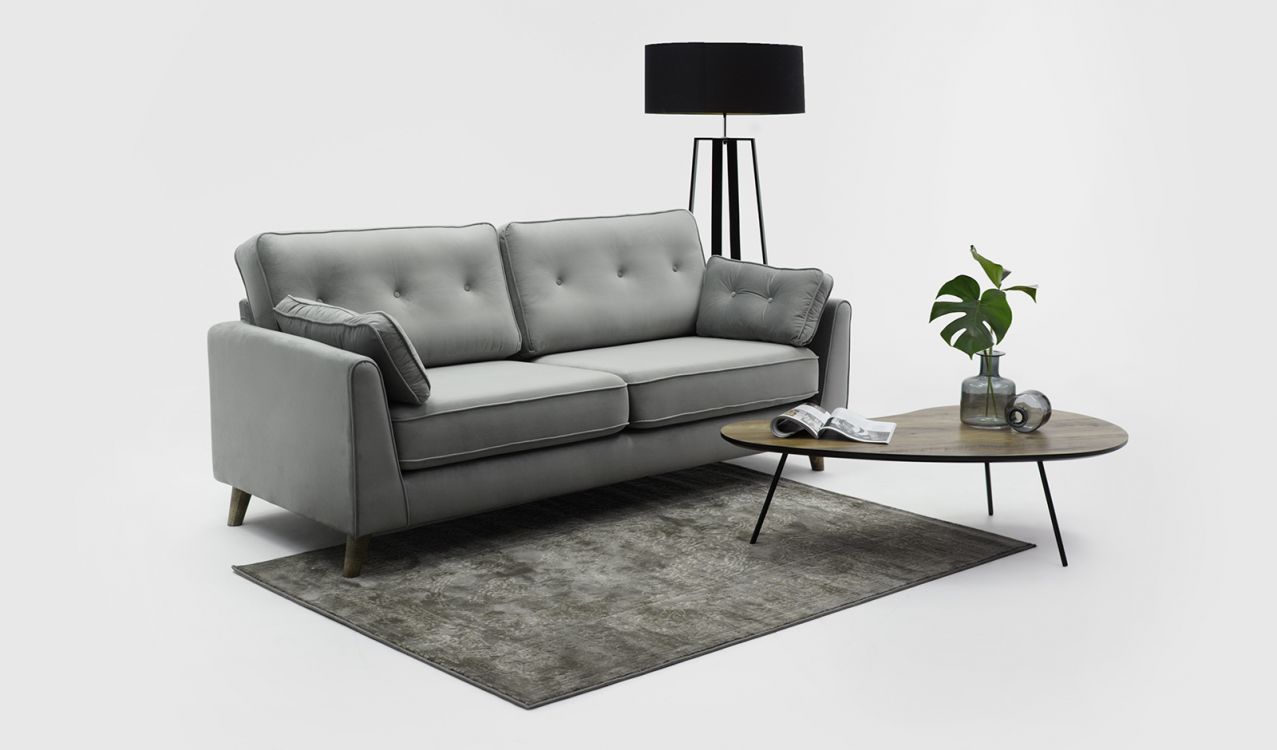 Industrial versus loft style
Industrial interior is a bit different from a loft one. The main differences are:
Much smaller number of elements that bring to mind old factories. Bricks or concrete in a loft apartment are painted or contrasted with artwork.

Industrial and loft design are distinguished by colours. You will find more pastels and soft colours.

Accessories also distinguish the industrial style. In contrast to the loft style, where you can often find plants, cushions and fluffy carpets, in an industrial interior you have more of simple and quite austere forms, e.g. posters with factory machines.
The loft-style living room is not filled with contrasting elements, which makes it look more delicate. Additionally, pastel colours on the walls make the interior cosier than an industrial flat.
Stylish accessories for an industrial apartment
The last step in creating an industrial design is the selection of accessories. The most popular are:
decorative hangers imitating those from the factory cloakrooms, sometimes contrasted with a decorative feature,

factory themed posters,

metal or glass water jugs,

lamp shades made of bare rods or loosely hung halogen lights,

shelving units with a metal frame,

wooded sliding door.
When looking for accessories for the apartment in industrial style that will make it look less harsh, it is worth choosing fluffy carpets and pillows upholstered with a soft fabric. A sofa will also work great.
Best sofas for a living room in industrial style
To sum up, the industrial style features exposed facades or pipes, brick, concrete, simple furniture and tall windows. To make this raw interior more comfortable, it is a good idea to bring in a sofa or a corner sofa. Light grey Nimbus or very charcoal grey Kooper on metal legs would be perfect for a large interior.
In a smaller industrial apartment, Lioni corner sofa in a simple shape, upholstered with velvet and with added cushions will work well. The slightly larger charcoal grey Majestic corner sofa with grey cushions or Lull sofa would be great in an industrial bedroom.
Industrial interior will look great filled with accessories such as metal jugs, simple steel shelves and lamp shades in classic colours. Glass containers for water or oil and walls made of bare bricks also look good in such an interior. Adding accents from the loft style will make the interior cosy, and the classic colours can be contrasted with an accent in an intense shade, e.g. carmine or mustard yellow.