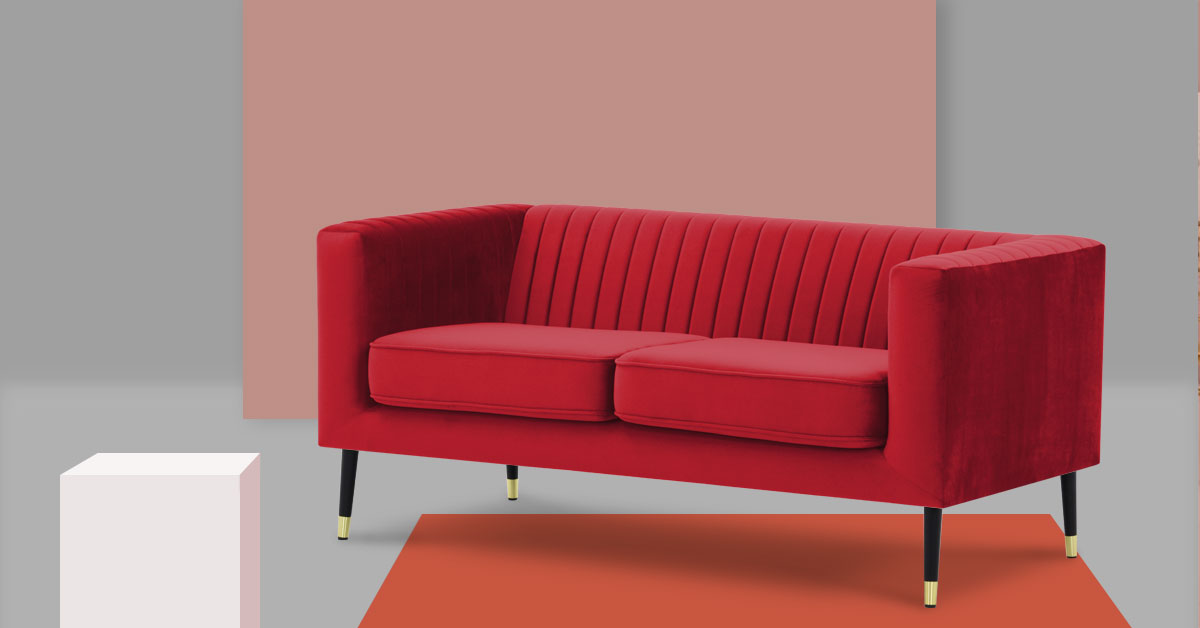 If you value bold rooms with plenty of character, then it might be time to consider buying a sofa or a corner sofa in red. This colour will add a unique touch to your room and emphasise its character and style. With a red sofa, you will create a room that will become the heart of your home and that will be admired by everyone. Sofas in this colour have become a symbol of class and elegance in recent years.
A sofa in red colour – perfect for any type of interior
Modern style works well with sofas in all shades of red and claret colour. But what about retro or classic styles? A red sofa can definitely be a great match for those styles as well. Our upholstery fabrics are very varied and you can choose from a really wide range, pairing them up with any style. A red sofa can work perfectly with very neutral colours, such as: beige, white, black or omnipresent grey.
In our store, you'll find plenty of claret sofas, as well as corner sofas in various shades of red. Below you can read about some of them. We are certain that you'll definitely be able to find something perfect for you.
Slender 2-seater sofa – a model of sofa that our customers really like and which has become very popular. It is a very elegant and stylish sofa. It's upholstered with velour and looks great in both small and larger day rooms. Delicate stitching on the backrest emphasises its character, while the red colour of upholstery fabric allows you to create a room, which shows a great taste in design. Slender 2-seater sofa is elevated on elegant and stylish legs, which add a unique lightness to the whole piece of furniture. The sofa is further improved by delicate stitching on the backrest.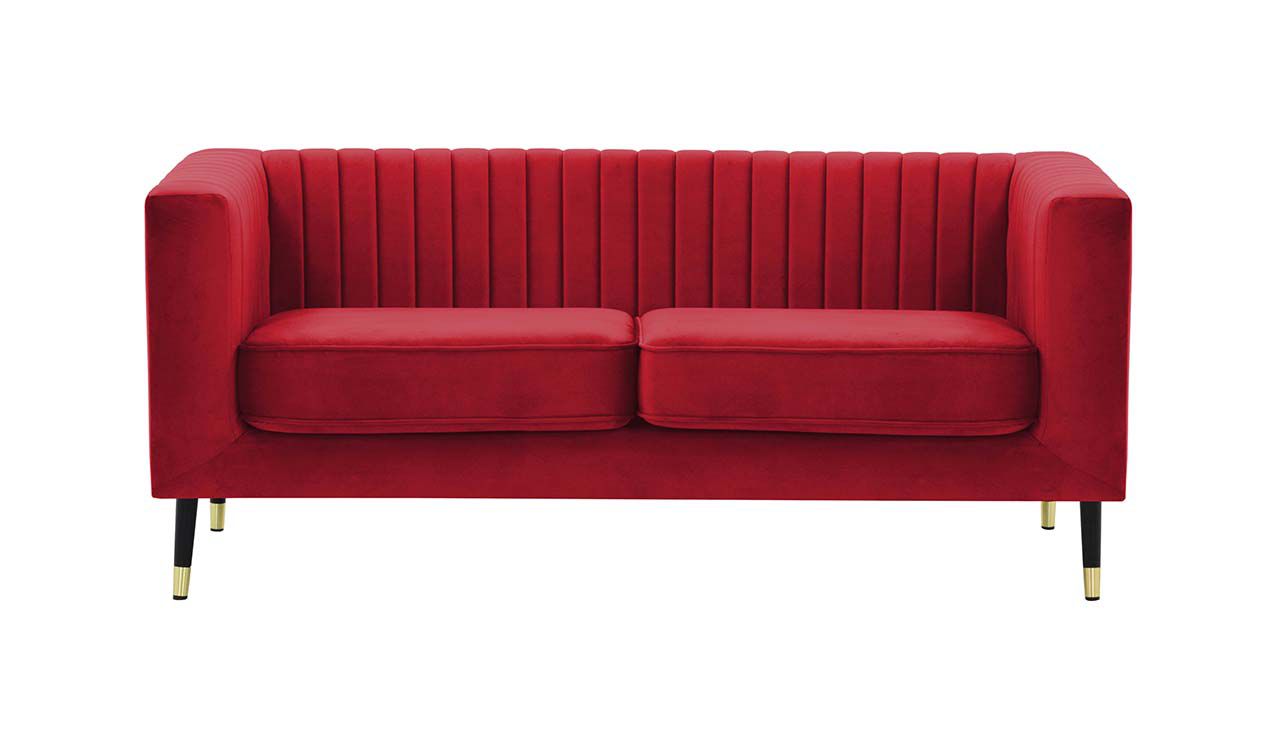 Chesterfield Modern 3-seater sofa – everyone knows sofas in Chesterfield style. The are very characteristic and create an amazing style in your room. There is bold quilting on the backrest, as well as on the armrests. The sofa is wholly covered in velour and thanks to this fabric, the elegance and class of this line of furniture is really distinct. Retro sofas can be used in loft-style interiors, but also in modern and classic living rooms. Our experience tells us that this model is really popular in beauty salons and offices.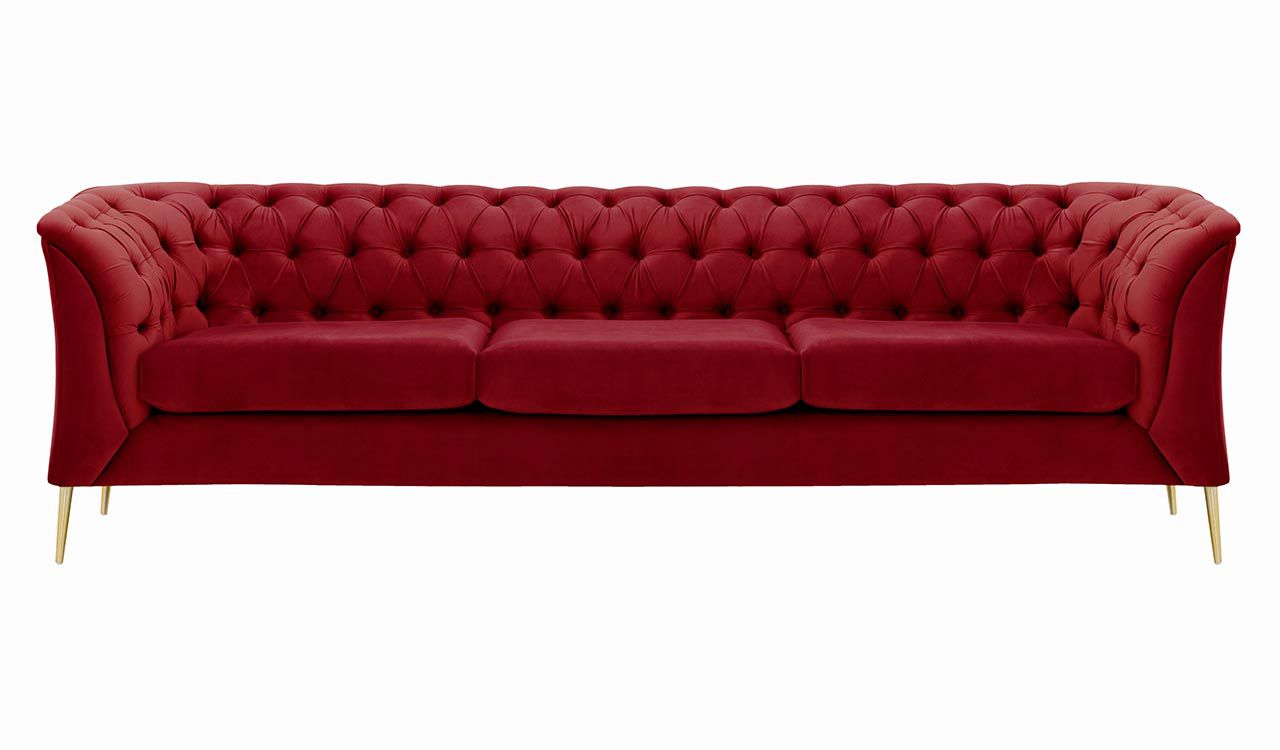 Amour corner sofa bed with storage for bedding – if you want to have a piece of furniture that looks beautiful, but is also functional at the same time, then go for Amour red corner sofa bed. It is very comfortable; while its shape and form are fascinating, it also gives you plenty of opportunities. Sofa beds are an ideal option for studio and small flats that are in need of practical solutions.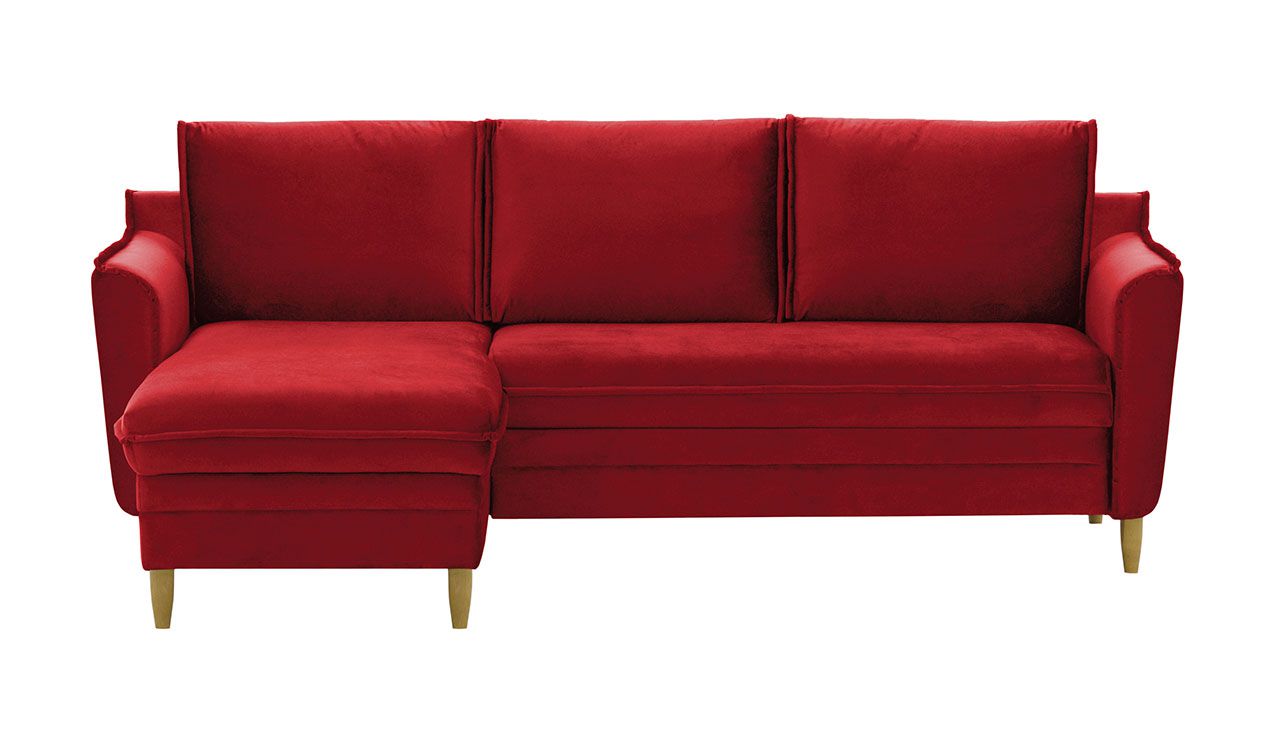 Swift corner sofa bed – beautifully finished sofa bed in red colour, which is not only extremely functional but also looks great in small and spacious rooms.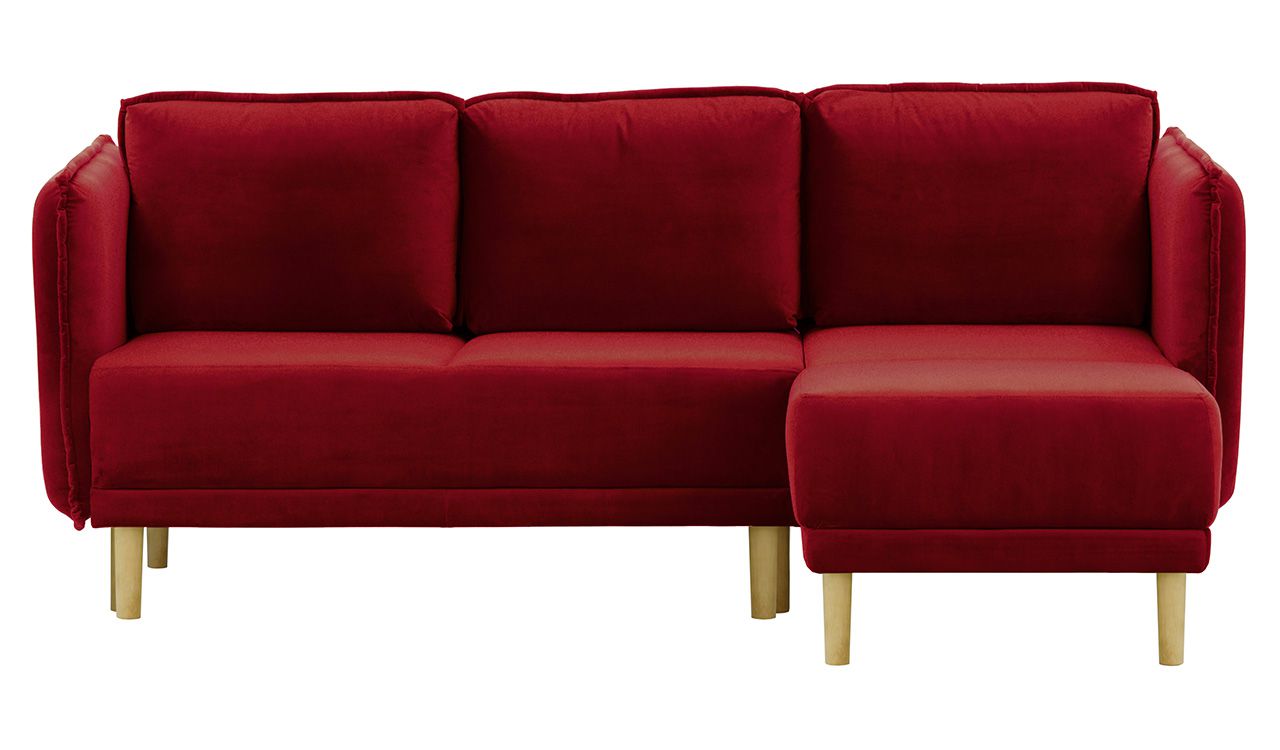 Brest 3-seater sofa – it is one of our most popular sofa models. It is very light in its form and makes it easy to design a room with it in it. The pleasant to the touch fabric is a stylish weave, which is easy to keep clean. Claret colour is our huge hit and it is a tone of red that many of our customers will very often go for. Brest 3-seater sofa is ideal for rooms in Scandinavian style.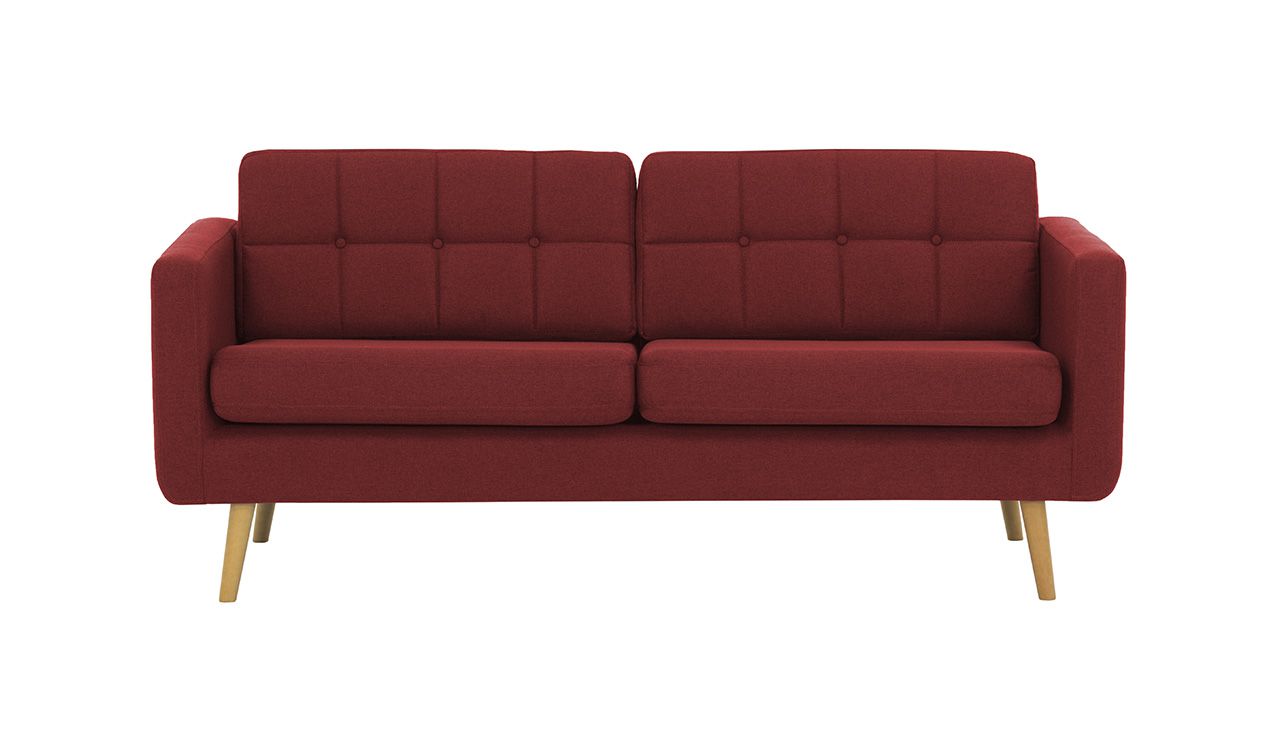 Red velour – a symbol of elegance and great taste
A red sofa in your living room is really quite a brave and unique choice. It is not a bad choice though; because this colour is able to transform any space. It you are wondering how to liven up a boring day room, or how to emphasise the character of your living room, then don't hesitate and buy a red sofa or corner sofa. We hope that this short entry has helped you in choosing a perfect sofa for your living room.