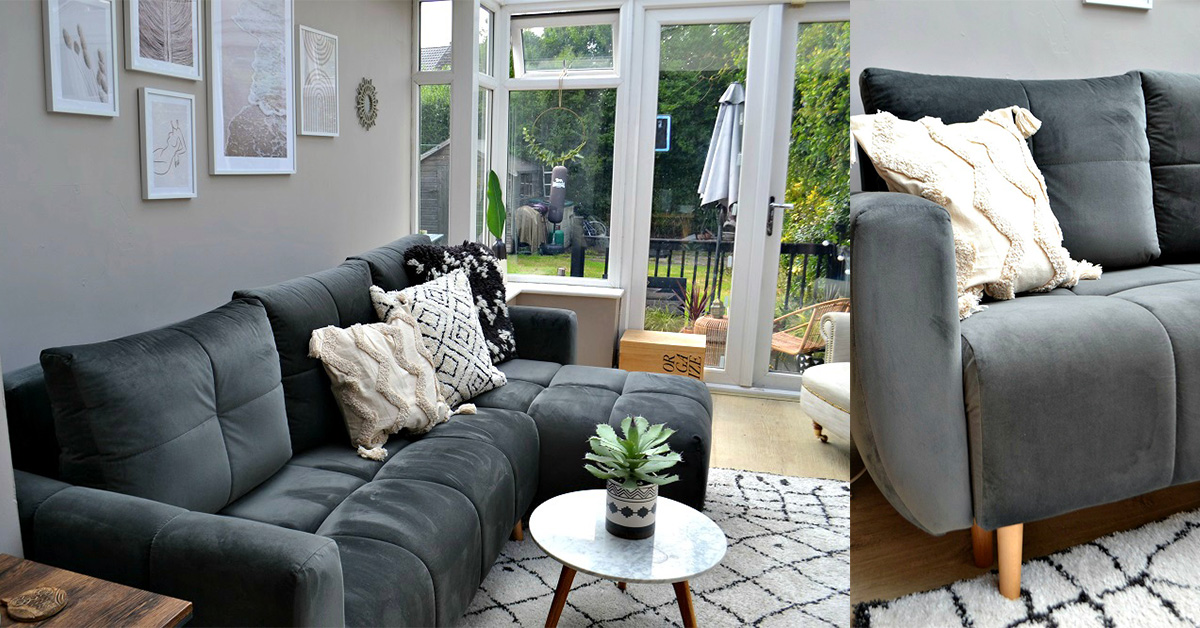 A lot of us would do everything to get enough sleep and feel energetic and ready to face all the usual challenges. When choosing a piece of furniture to sleep on, you might find that it's not an easy task and you have to spend a significant amount of time trying to find the perfect model. However, having a comfortable and beautiful piece of furniture that you can sleep on will make up for all the challenges. When looking for a sofa bed or a corner sofa bed, it's good to go for models that will have storage for bedding or those that won't significantly change their dimensions after being folded-out.
What is the most comfortable piece of furniture to sleep on?
A sofa bed, fold-out sofa, corner sofa or maybe a low bed? Which one will give you the most comfortable sleep?
The first option could be a fold-out sofa for everyday sleeping, located in your living room. The dimensions should be tailored to the number of people that will sleep on it and their height. The most popular comfortable pieces of furniture to sleep on are sofas or fold-out sofas. It's important that the mattress is firm enough.
When looking for a sofa bed, it's a good idea to start by thinking about where we want to sleep. If you decide on placing the furniture that you will sleep on in your living room, then you'll need to carefully measure the width to avoid having any problems with folding the sofa out.
Day room furniture with the sleep-on function will also ensure comfortable sleep. First of all, it will be ideally matched to the design of your living room and, secondly, it will guarantee comfortable sleep. Finally, with day room furniture, you'll be able to offer your friend a place to sleep overnight after going out or just have an afternoon nap yourself.
How frequently should you fold out the furniture that you will be sleeping on?
How frequently to fold out your sofa bed or other furniture? It all depends on whether you use it as everyday bed or as a sleeping space for your guests. Unfolding your sofa bed shouldn't cause any problems, which means that the sofa should be fairly light and mobile. A practical solution is to have handles to elevate the sleeping surface. They will allow you to comfortably lift, move and lower the surface while unfolding your sofa bed, day in and day out. While unfolding your sofa bed (Finder), it's worth remembering not to force it, because it can cause damage to the lifting and lowering mechanism.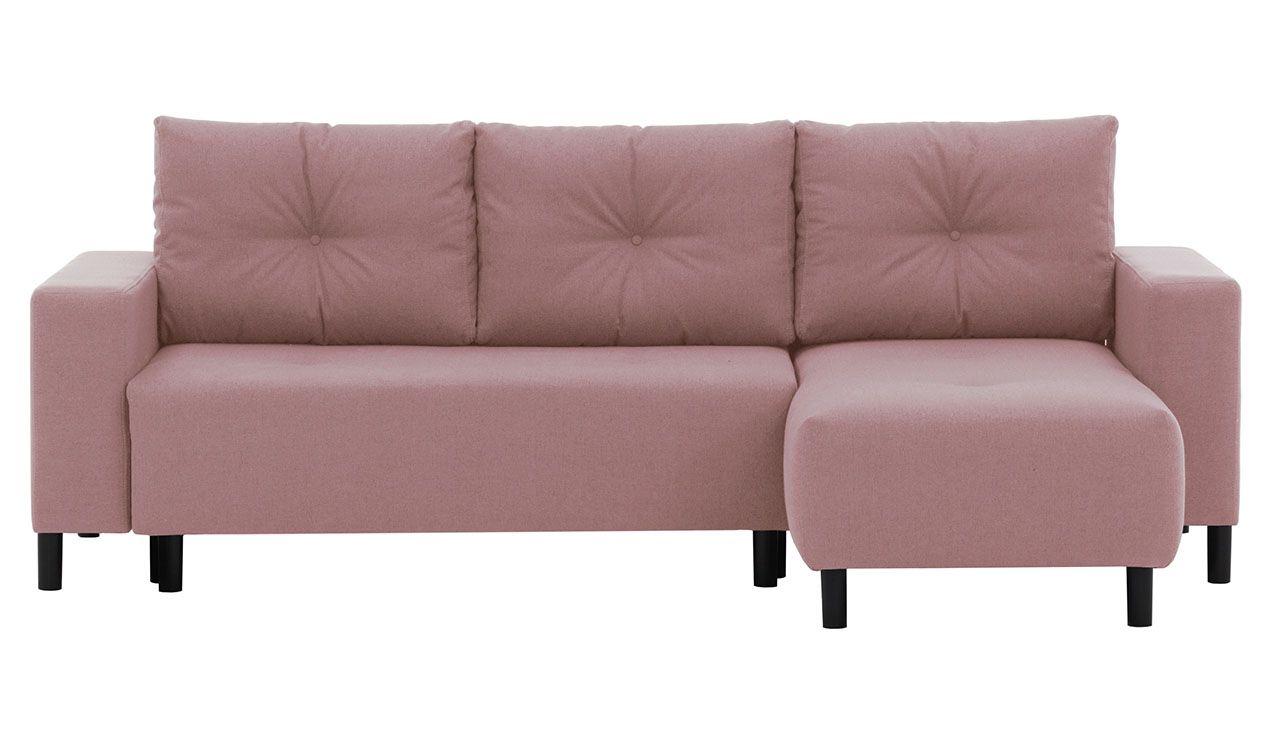 The size of sleeping surface in your sofa beds
What is the surface area that a comfortable sofa bed should have? It all depends on a couple of factors. The first one is the number of people that will sleep on the sofa. If you are looking for a sofa for two people, we recommend choosing a narrower piece of furniture. It will allow you to better adjust bed dimensions to the room. Two people will be able to sleep comfortably on a sofa that has a very wide surface. If it's the children that will be sleeping on the sofa, then a good option is to choose a short sofa bed, which will work perfectly as a comfortable piece of furniture that you can sleep on.
A sofa bed is a great alternative for a small bedroom with no bed in it. When folded, it's a fantastic piece of furniture for one person to have an afternoon nap on, but when you fold it out, it will become a comfortable sleeping space for a couple of people.
The main aspect to consider when looking for the right sofa bed (Novel) is personal preferences. If you are a person who wriggles and takes the whole space when sleeping, then the best option would be to go for a very wide sofa that you can sleep and relax on. It's an ideal solution for those who prefer larger furniture. A small sofa is a better option for those who want to experiment with furniture for sleeping and find out what their preferences are.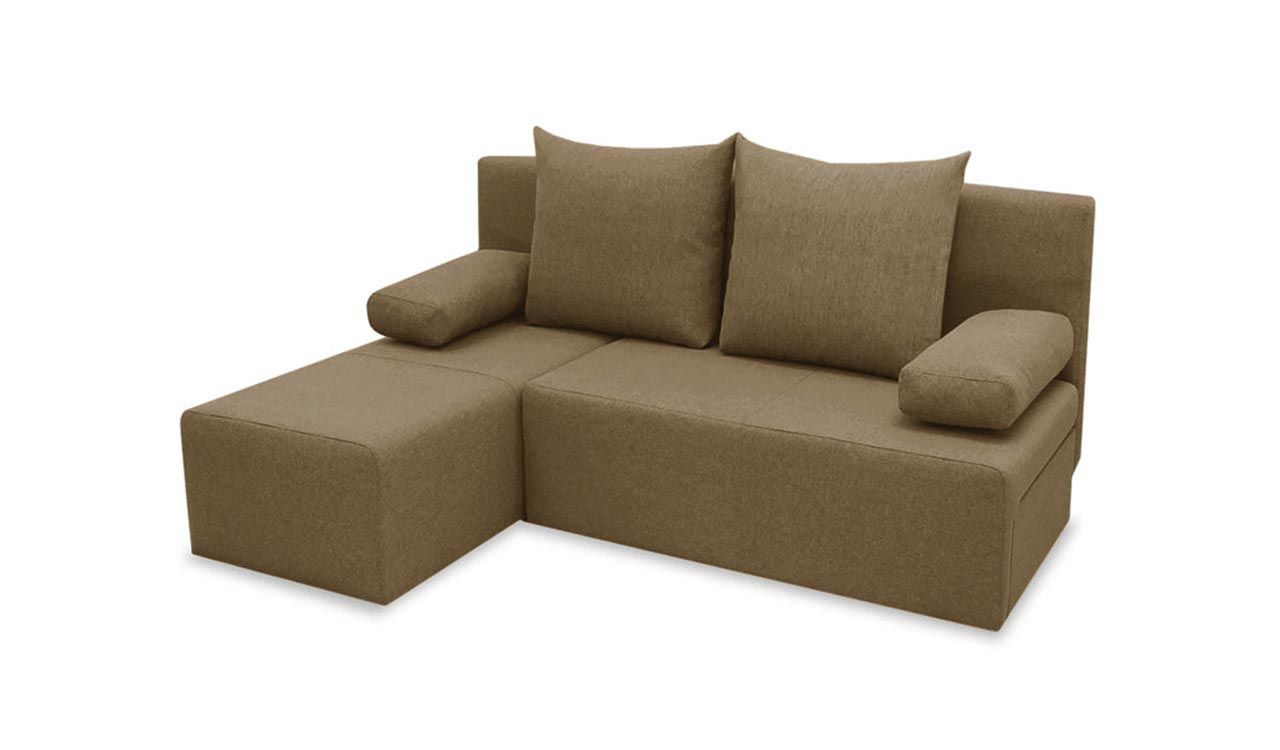 The size of sofa/corner sofa before and after unfolding
Fold-out corner sofa (Velocity, Globe, Swift) or sofa bed are pieces of furniture that will guarantee comfortable sleep and a comfortable place for chilling out. A living room set with a fold-out corner sofa as the main part is our recommendation for those who like when the bed is placed in the corner of the room or those who prefer more movable furniture. Another advantage of having a corner sofa bed is that the dimensions after unfolding will be very similar to when the piece of furniture is folded in. Unlike with sofa bed, the corner sofa bed won't make the room seem optically smaller after you unfold it.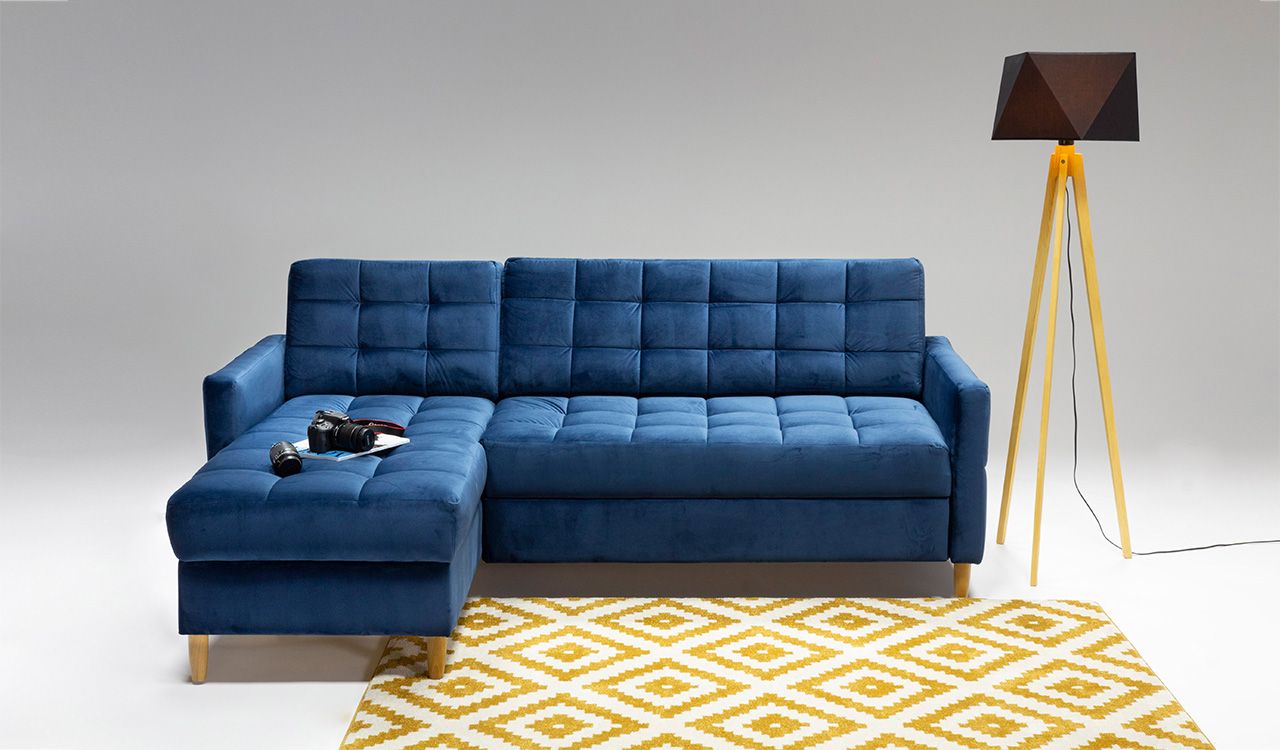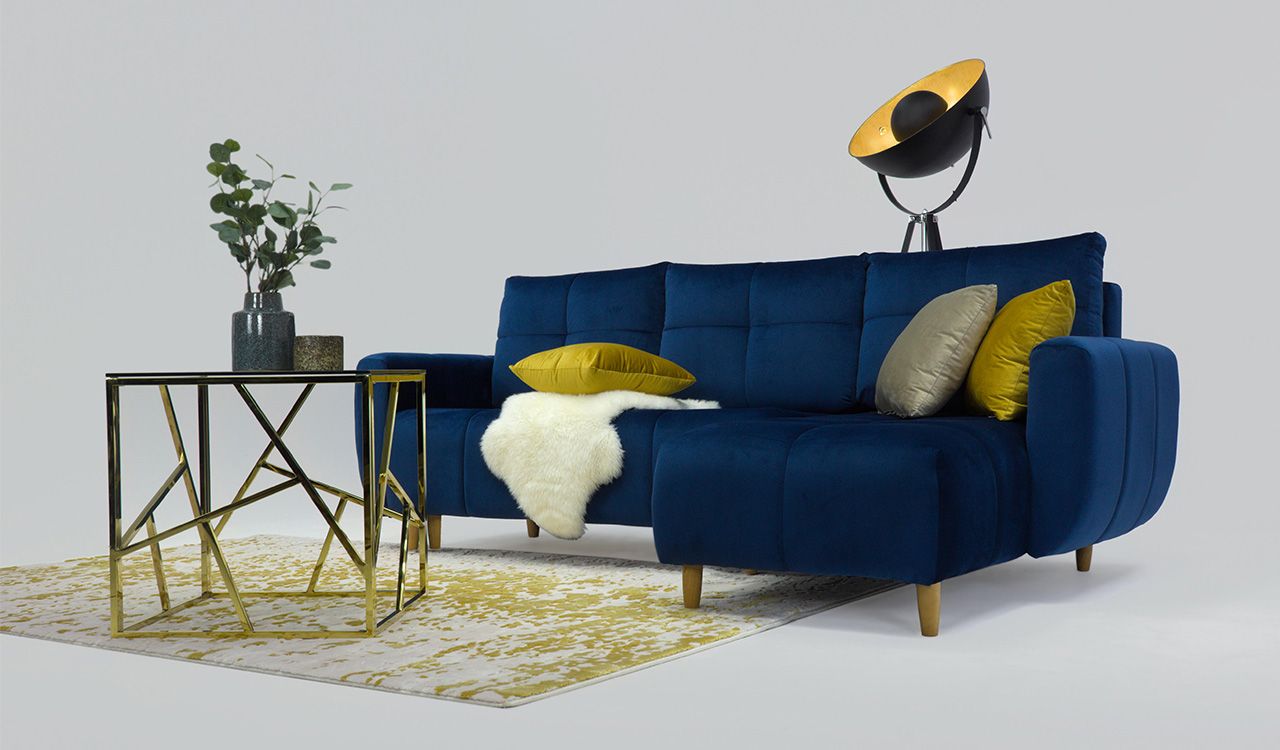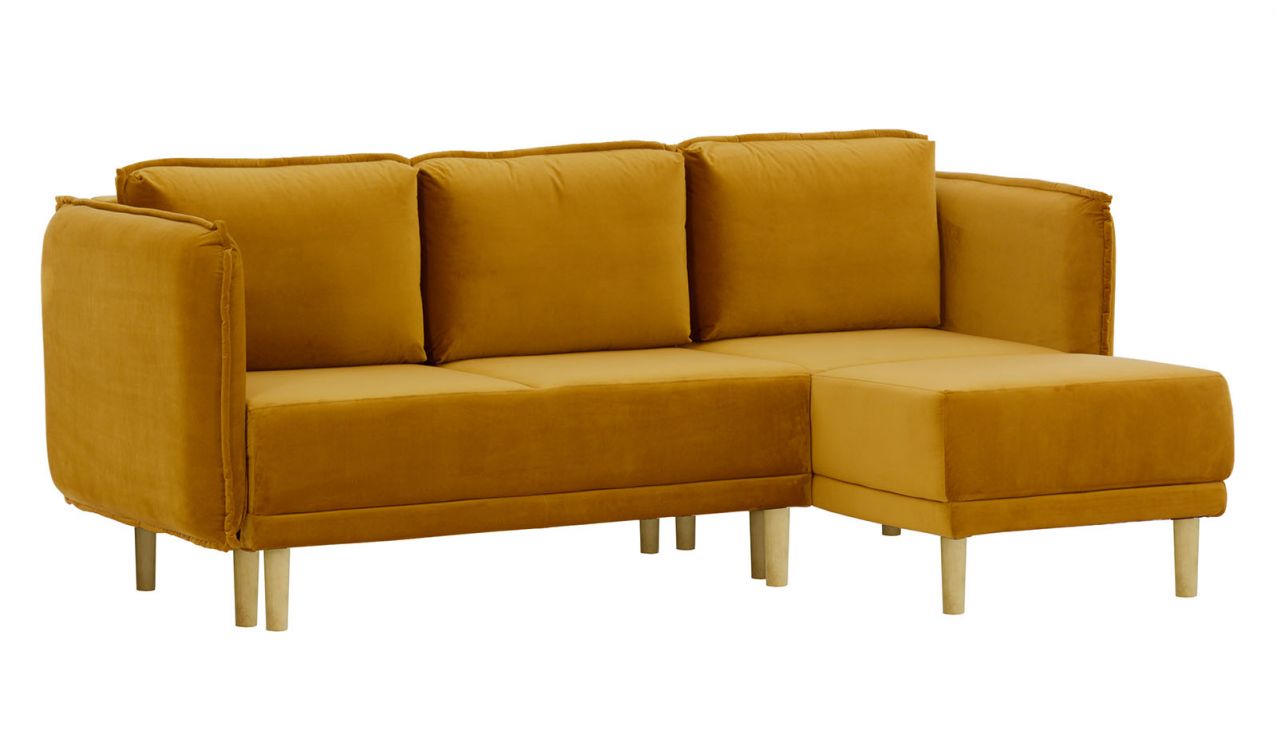 Corner sofa bed models such as: Elegance, Explorer or Kropp are also good ideas for a children room. In your little one's small room, it's good to arrange the furniture in a way that will leave as much space as possible for your child to play, without risking stumbling on the bed or wardrobe corner. If you choose a sofa bed with rounded corners, you will ensure your child's safety.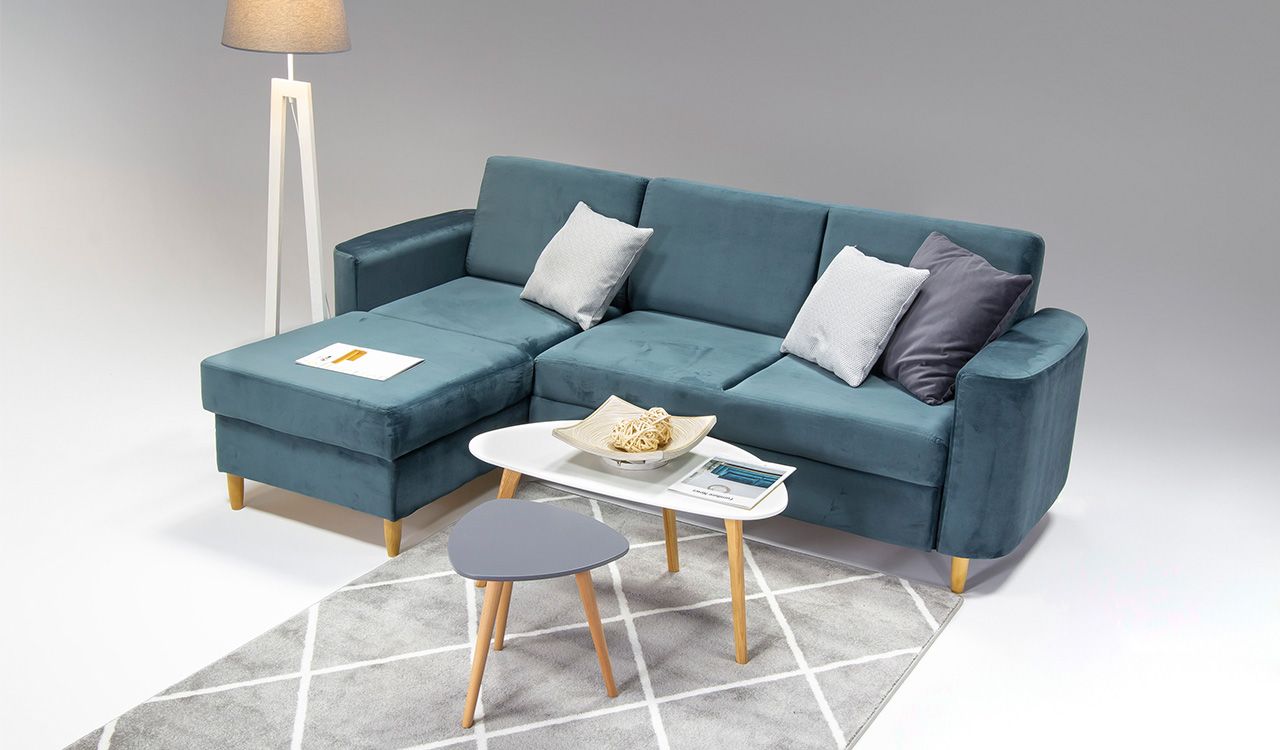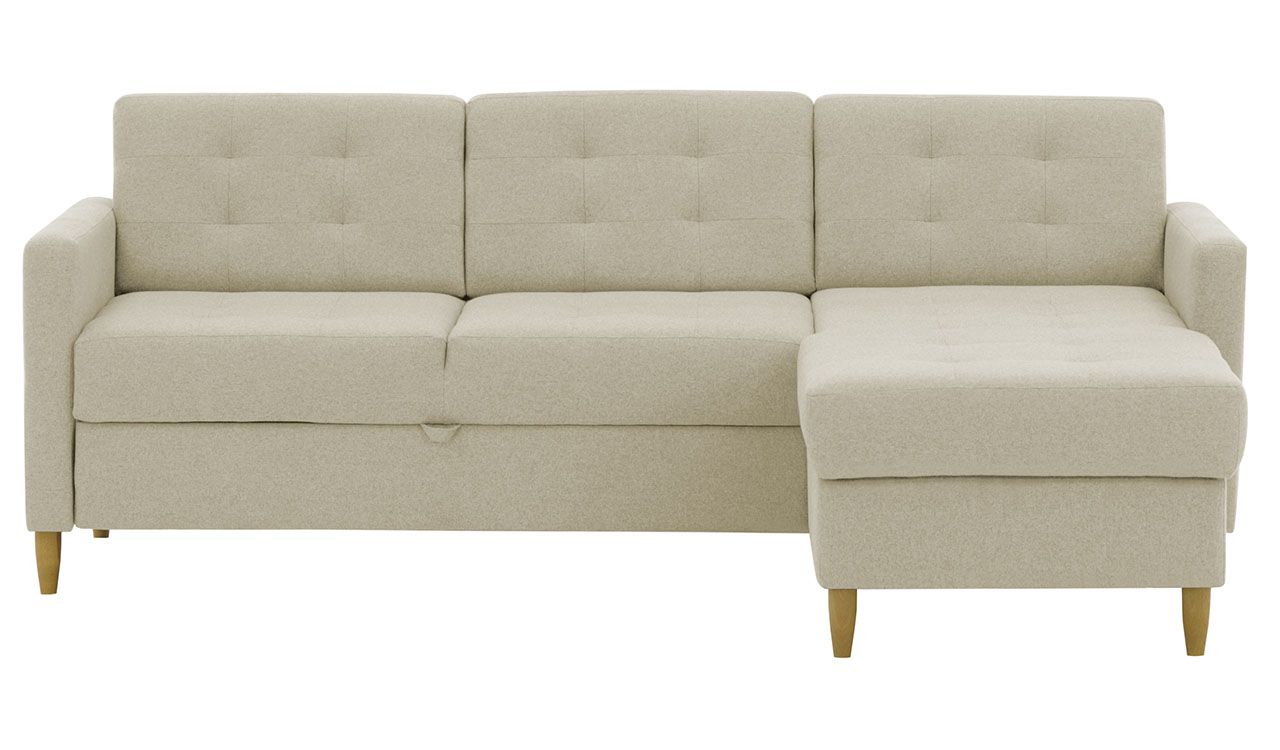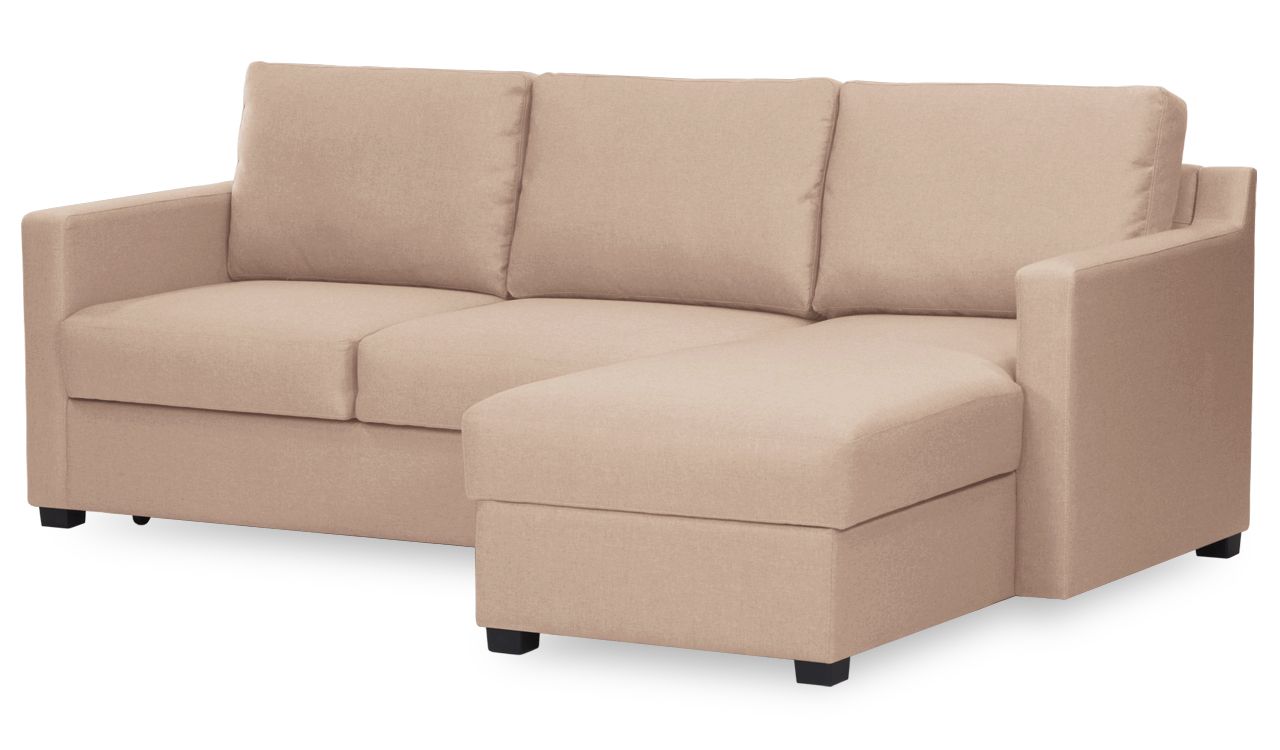 It's slightly different with a comfortable sofa bed, because it's dimensions will be significantly larger when you fold it out (compared to when it's folded in). On the one hand, in a small guest bedroom, the sofa can limit the ability to move freely around the room, but on the other hand, you know that sleeping on it will be more comfortable.
When looking for the right furniture for sleeping, it's good to check out the sleeping surface dimensions as it might turn out that a smaller sofa will have a larger and more comfortable surface than a large one. When buying comfortable furniture for sleeping, it's a great idea to check their dimensions before and after unfolding, so it doesn't turn out that a particular piece of furniture won't work in your room.
Ways of unfolding a sofa or a corner sofa
A corner sofa bed or a sofa bed can be unfolded in a few different ways. The first option is DL system, which means that the seat is pulled out and the backrest of the sofa is removed. Another system of unfolding furniture is called "dolphin". It works by pulling out a special cart from under the seat and lifting the mattress up. It will give you a large sleeping surface on a fold-out corner sofa bed (Maxim, Nicea). Another way to unfold sofa bed is the click-clack system. It is one of the easiest ways to fold a sofa out. You lift the seat up, then press the backrest against it until you hear a characteristic "click" sound.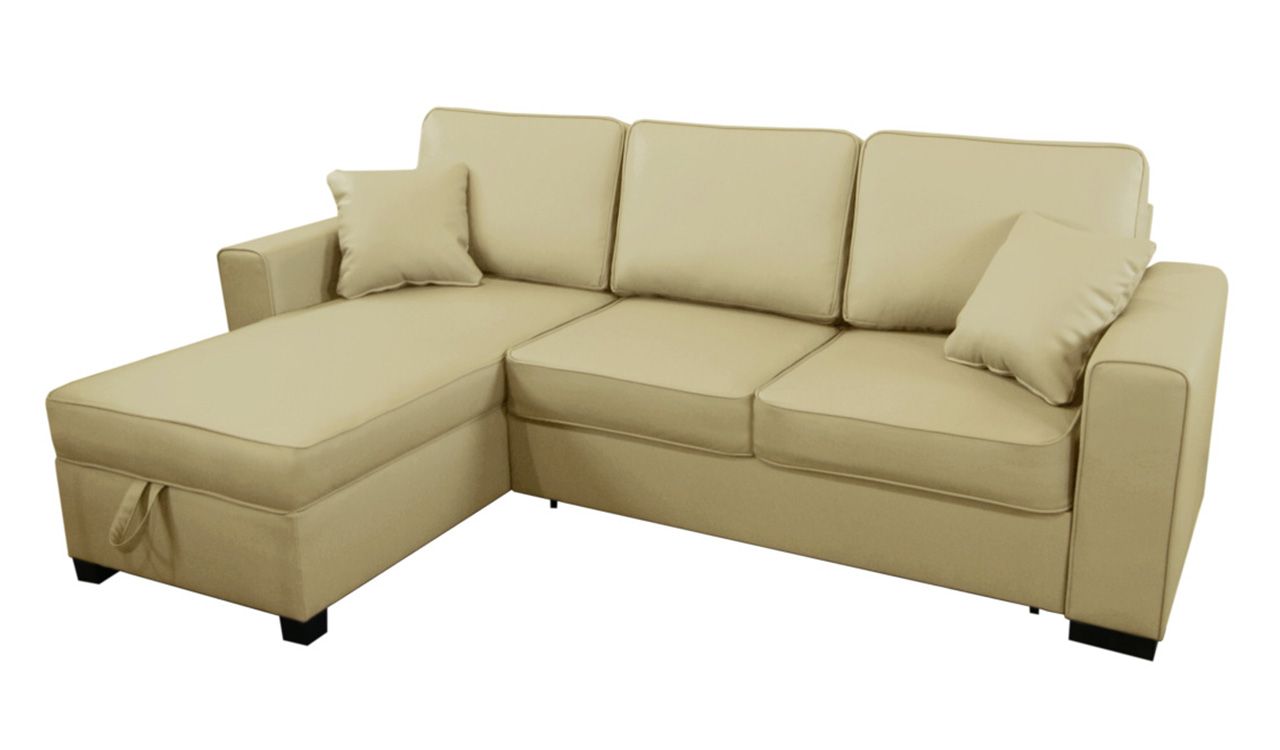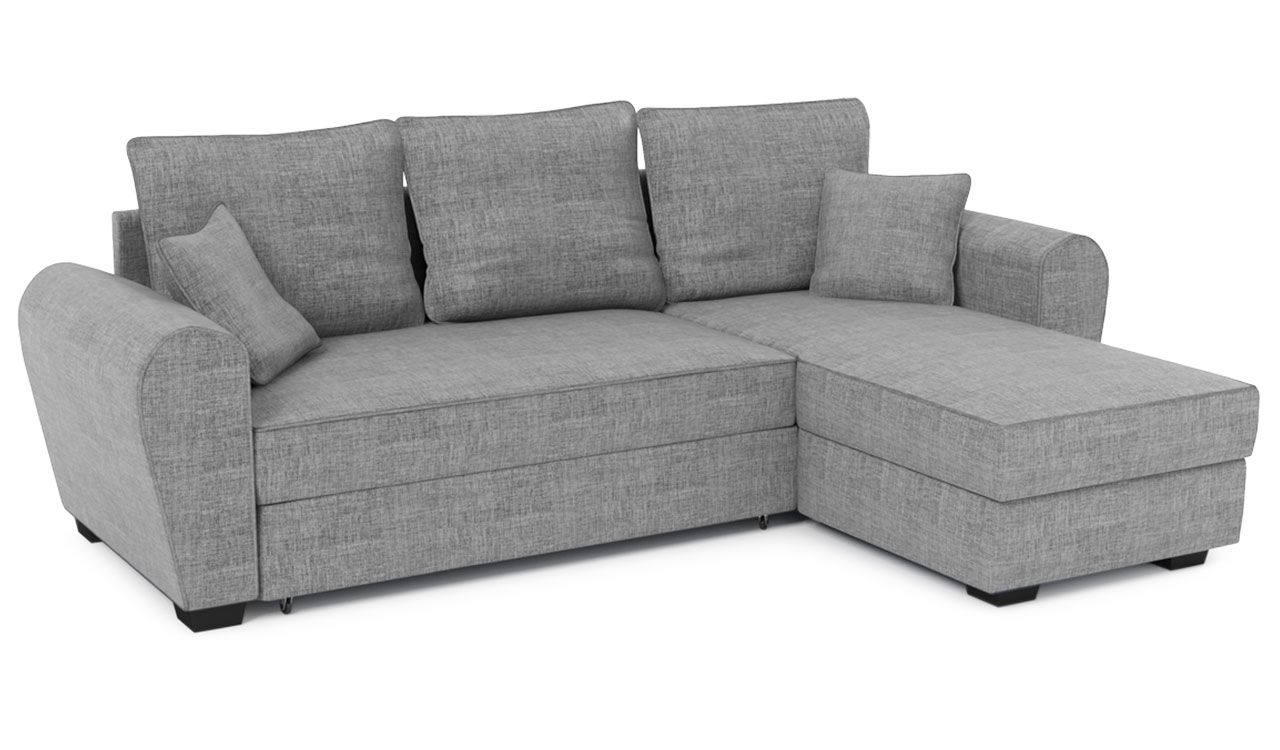 Belgian automatic is another method of unfolding sofas. You will need to take out assembled parts of the structure from the storage, and then place them on the sofa's or corner sofa's frame. Beds can also be unfolded with the help of half-Belgian mechanism, or a cart. It's a method of unfolding sofa beds that works by pulling out a "cart" from under the seat and then putting a mattress on it.
Storage for bedding
Storage for bedding in your sofa or corner sofa (Milan, Amour) is a practical option for a guest bedroom or for those who don't like spending too much time making the bed. You can easily put additional pillow or a blanket into this type of storage.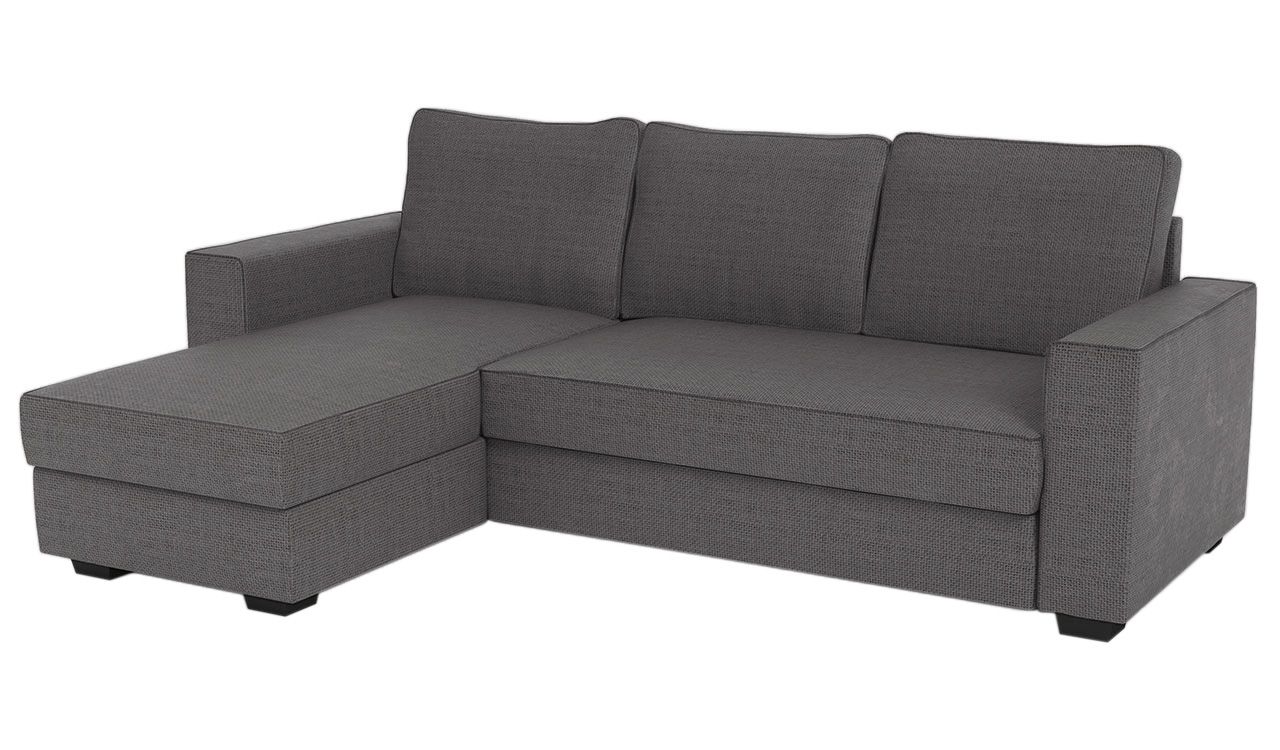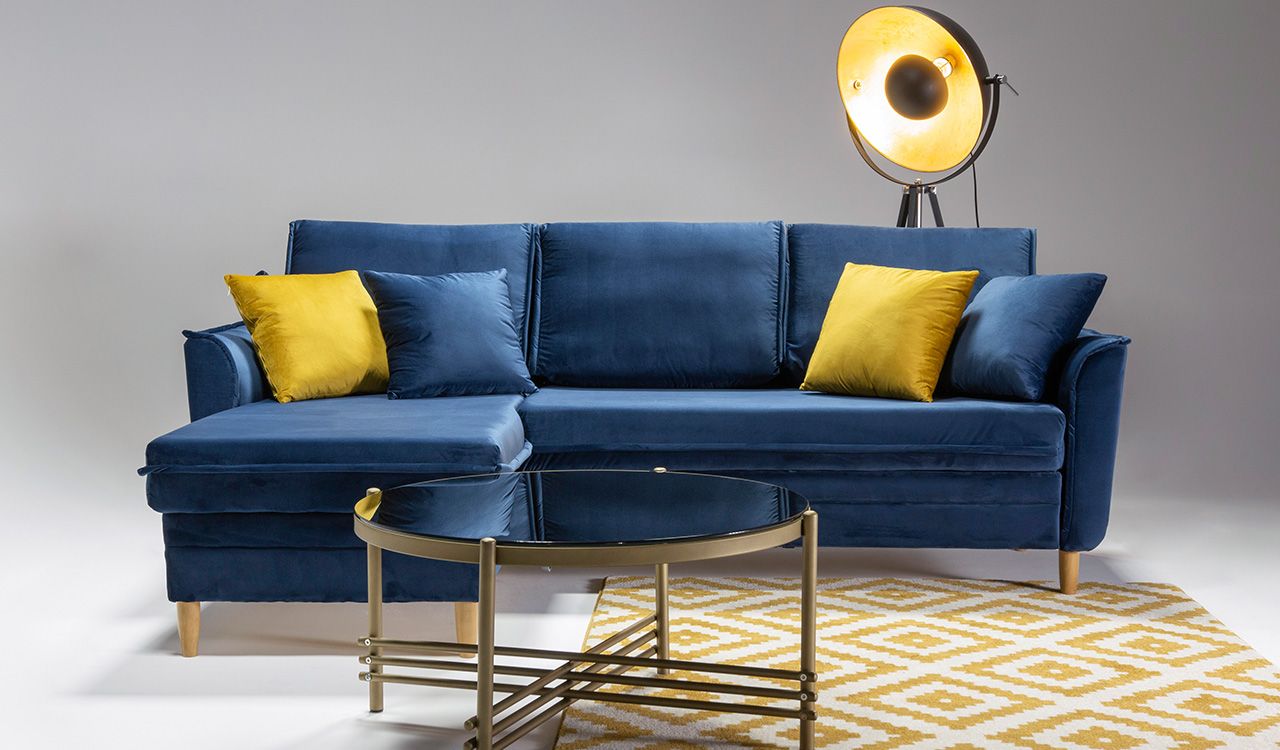 Corner sofa beds or sofa beds will often have very spacious storage for bedding, which means that making the bed every day will be much easier. The storage will often be a drawer that you can pull out from the front, so even after opening it the sofa bed or corner sofa bed won't take much more space.
Another advantage of having a build-in storage for bedding is that it can work as an alternative to additional wardrobe or another space where you would have to store your extra pillows or blankets. This solution works great in smaller sofa beds, because you won't have to have a mountain of bedding on your sofa seat.
Corner sofa's or sofa's fabric
A corner sofa bed or a sofa bed with storage for bedding are among the most frequently chosen furniture for your day rooms. They guarantee comfortable sleep and relaxation, and also look great. It's worth thinking carefully about the right upholstery fabric, so you can use the furniture in the best possible way.
Velour upholstery fabric of your sofa bed will be a perfect solution for those who love furniture in lively colours. Because of the very wide range of colours, you can choose between classic black, white and grey tones or more unconventional red and purple shades.
If you dream of having a posh living room set with the sleep-on function, it's worth going for furniture with leather, suede or velvet upholstery fabric.